Time magazine
has come out with a special issue on Asian heroes. Heroes from five diverse fields which include Arts, sports and Business have been identified. It's interesting to read the success story of heroes of our times.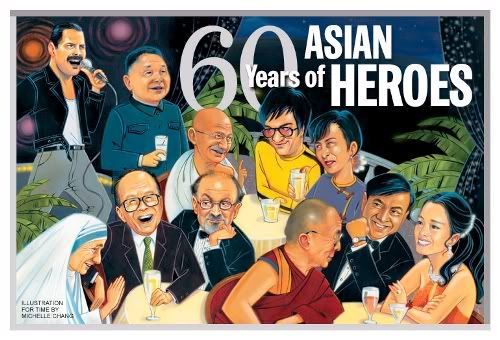 Some interesting leaders like
Meena
from Afghanistan are really inspiring.
In 1977, at the age of 20, she launched the country's first movement for women's rights, calling her group the Revolutionary Association for the Women of Afghanistan (RAWA). Its goals: the restoration of democracy, equality for men and women, social justice, and the separation of religion from the affairs of the state.

Nobel laureate
Mohammad Yunus
from Gramin bank on how he started his journey.
In 1974, famine gripped Bangladesh. Hundreds of thousands died and millions became destitute. For Yunus, who had just returned to Bangladesh as an economics professor after completing his Ph.D. in the U.S., it was wrenching to discover how meaningless his academic achievements were in the midst of all this suffering. Hoping to cure his own sense of helplessness, he wandered the muddy lanes of a village next to his university, searching for ways to help. Little did he know that this nervous exploration would plant the seeds of an economic miracle still blooming decades later.
On how
Yahoo
became a success story.
Created by two Stanford students, Dave Filo and an expat Taiwanese named Jerry Yang, the site was a directory of other websites, organized as a list of useful topics. It was meant for the students' friends, but everyone was hungry at that time for a guide that helped make sense of this chaotic new medium, so Yahoo! quickly became essential for all Web users.